Dynamometer for electric vehicles
Electric vehicles enable environmentally friendly and sustainable mobility. The working group for energy system technology and power mechatronics has been working intensively for some time on scientific issues arising related to electromobility. In order to be able to investigate these questions scientifically, EneSys has designed and built a dynamometer for electric vehicles.
Measure, but correct!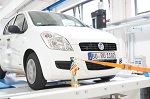 The special characteristics of electric vehicles were taken into account in the design of the test bench. The low power and the dynamic controls as well as the critical EMC situation were particularly taken into account in the design.
Special Characteristics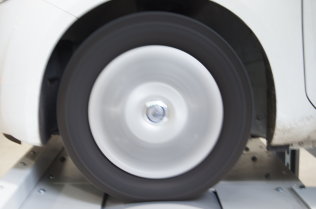 Top roller design
4-quadrant operation
Torque measurement up to 1000 Nm
Speeds up to 200 km/h
160 kW continuous load and continuous recuperation
1000 Nm peak load
High-precision, EMC-compatible measurement technology
Possible Researches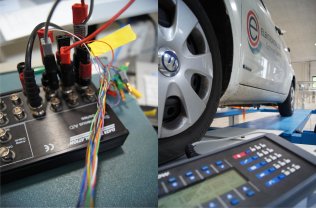 Power measurement
Energy consumption measurement (with charging)
Recuperation power
Range tests with arbitrary driving cycles
Operating strategies
Endurance tests
Examinations according to your specifications? Contact us!
Planned Enhancements
A pedal robot for the accelerator and brake pedals is added to the test bench in order to operate the gas pedal pedals from the operational control of the test bench. Vehicle speed-dependent ventilation of the front and floor of the vehicle helps to ensure that the thermal behavior of the drive system and traction battery is adapted to road conditions.
Contact: Dipl.-Ing. Alexander Broy