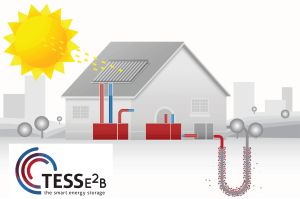 We would like to invite you to our Workshop on the subject "Thermal Energy Storage System for Energy Efficient Buildings", which is part of the EU-supported project TESSe2b.
The workshop will take place on Thursday, June 22, 2017, at Ruhr University Bochum in Bochum, Germany. (Room E04/401, Building ID, Universitaetstrasse 150, 44801, Bochum). The topics to be discussed include innovative use of Phase Change Materials (PCM) for heating, cooling and preparation of domestic hot water in connection with the use of solar collectors, as well as the innovative production of geothermal energy with heat pumps and PCM in boreholes. The control and monitoring techniques of these systems will also be presented. In the afternoon, "Business to Business"(B2B) meetings will take place, during which the participants from research, industry and private business can exchange their thoughts and experiences about various aspects of these topics.
You will also have the opportunity, to present and propose your products that could be used in the implementation of the project in three demo sites (in Austria, Spain and Cyprus). We can discuss their possible use and application in the scope of the project and beyond.
You can find the detailed agenda of the workshop in the links below.The presentations and discussions will be made in English.
We will be happy to welcome you at our workshop!
In order to register for the workshop please fill in the registration form below until Monday, 19th of June 2017.