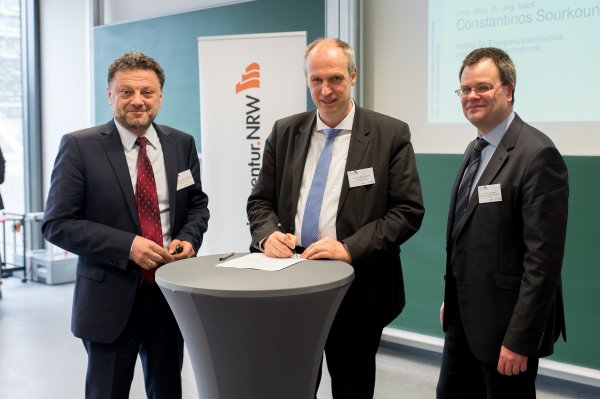 To research wind power conversion systems a laboratory-scale wind park will be build in Bochum, Germany. Now, one milestone has been achieved.
(only in German available)
Um Windenergie optimal ausschöpfen zu können, bauen Prof. Dr. Constantinos Sourkounis und sein Team vom Institut für Energiesystemtechnik und Leistungsmechatronik an der RUB einen Modellwindpark auf. Dabei kooperieren die Forscher mit dem Fraunhofer-Institut für Windenergiesysteme.
Das Projekt "Smart Wind Park Laboratory" wird bis Ende 2020 mit rund 4 Millionen Euro aus dem Programm For­schungs­infra­struk­turen NRW gefördert.
Fraunhofer-Außenstelle an der RUB
Ziel der Kooperation ist es, an der RUB ein Kompetenzzentrum für Windenergie als Außenstelle des Fraunhofer-Instituts zu errichten. Am 22. März 2018 haben die Partner zum Projektauftakt eine Absichtserklärung unterzeichnet, die den Grundstein für die weitere Zusammenarbeit legt.
Ausführliche Pressemeldung der RUB
Foto: © RUB, Kramer