Electromobility

NEW: EV-Dummy (Mobile Charging Station Tester)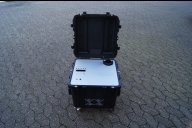 This mobile testing device affords an on-site inspection of charging stations, using the CHAdeMO protocol. Being a current sink, the dummy emulates the behavior of an electric vehicle and communicates with the charging station. Current profiles can be requested, error scenarios can be created and the correct operation can be checked. The dummy can be upgraded to fulfill every other norm.

NEW: Protocol Logger: EV-DCQC-Analyzer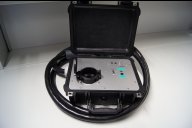 An adapter plug (conforming to CHAdeMO protocol ) is inserted between the charging station and dummy (load). At this point, this records the communication between charging station and the load and, on using internal sensor, voltage and current waveforms. An integrated protocol analyzer detects selected fault (eg non-compliant behavior voltage on the DC bus relating to the requirement of the vehicle) and displays detected faults by a LED indicator. An interface allows external storage of measurement data to the control computer.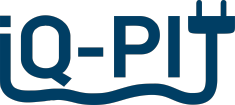 NEW: Charging Station: iQ-PIT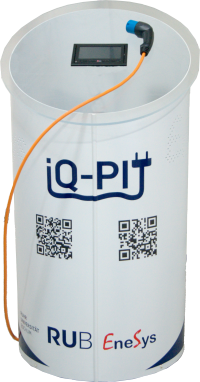 The 50kW high power-charging station for electric vehicles has been developed under consideration of all actual standards (IEC 62196, IEC 61851), such as CHAdeMO or type 2 plug. iQ-Pit impresses with its robust and compact design. Equipped with an active front end, it is ready for using electric vehicles as distributed energy storage.

The fast charging station impresses with its robust and compact external appearance. The iQ-PIT is future-proof thanks to its built-in ability to feed energy back into the supply network. Thus, the fast charging station already has the possibility to support the supply network from a vehicle battery within the framework of a smart grid. The only requirement is a connection of the vehicle battery via DC.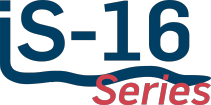 Current sensor: iS-16-xxx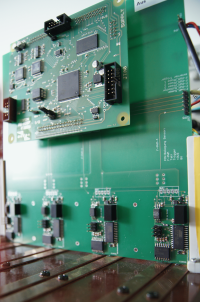 The current sensors of the iS-16 series are characterized by high electromagnetic compatibility. They have a small offset and low drift by a high-precision 16-bit resolution. In addition to the maximum sampling rate of 64 kHz, the good noise performance and the low energy requirements are some other features, which are useful to transmit an accurate F-PWM signal to any µController.

These Sensors can be implemented in automo-tive applications for battery management systems or AC / DC measurements in drive trains. They are also applicable in solar inverter or in other industrial applications.

Microcontrollerboard: DiScon Px-AD07
The microcontroller systems DiSCON Px-AD07 are based on the Texas Instruments microcontroller TMS320LF2407, which is particularly suitable for the control of power converters and of electric machines. This fixed-point microcontroller can process up to 40 million instructions per second (MIPS). It provides a large internal program memory (32 kWord Flash) and a sufficiently dimensioned data memory (2.5 kWord), which is enhanced by an external 32 kWord module on the board. The system board is equipped with several timers, capture and compare units, interrupt systems and integrated decoder units for incremental signals. These features underline the ability for converter and machine control. Additionally, several available interfaces (SPI, CSI, CAN) are available for the communication to other components or processors.